Please come visit these adoptable cats at our shelter!
***************************************************************************
Adoption fee Is $125. Adopt a second kitty for only $75 more (2 kitties for $200). Fee covers spay/neuter, age appropriate FVRCP vaccinations, rabies vaccinations, and combo testing for FIV/FeLV.
All our adoptable cats are special. But a few, because of personality quirks or physical attributes, are termed "special needs". They don't know it and they sure don't let labels get in their way. All such cats are noted with a ** by the name. The only "need" these cats have is to be loved by their own "special" person!
If one of the cats below "speaks to you", you can find out more about him/her by visiting us on Petfinder, or by emailing us. Better yet, come see the cats up close and personal during normal visiting hours! (M-F & Sun 9:30 - 1:00; and Sat 9:30 - 2:00) Adoptions are done at the shelter Wednesday, Saturday & Sunday or by appointment. Contact Deborah at kittycitymacon@yahoo.com.
Isabella- Young female; Good natured tuxedo girl with half a milk mustache! Ready now for her forever family
Poppy** - This older adult girl has a beautiful face and pretty coloration. She can be shy but easily warms to gentle attention. Poppy came into rescue with kittens. They all got adopted but she was left behind. She suffered with acute stomatitis and had her teeth removed. Now is medicated for control and healing. Come see this sweetheart soon!
Stryker - Young male; with a "strik"ing tuxedo patterned coat; playful, very sweet, and family friendly
Sasha** - Lovely tortie and white girl who is super shy and very wary. A quiet home, a patient person, and she will gain confidence and security. If you might be that special caregiver, come visit her soon!
Alice - Adult Female; Beautiful orange & white full-figured tabby lady; very sad after losing her home of several years; not happy to be picked up; needs quiet home, with understanding person who will treat her with patience and kindness; No children, no dogs.
Nugget - A beautiful blue cream coated adult girl who's been looking for her forever home too long. She can be sweet and is still playful, declaring herself the laser light queen! All she wants is a person to appreciate her poise and companionship.
Rose** - Pretty tortie and white older adult girl who was left behind by her previous people. How confused she must have been! Sweet Rose just wants to belong again. She needs routine care for a chronic mild nasal condition that shelter life doesn't help. Come see Rose and let her win your heart!
Harlan - Male kitten; handsome gray and white boy; happy little guy looking for that special family to call his own
Bezel - Female kitten; adorable little Tux; very sweet but shy and reserved; looking for a calm home
Bailey & Smokey** - These two handsome younger adult boys are a bonded pair. Both are mellow and reserved, usually hanging back from any action. They are a comfort to each other and need to stay together in a less active home.
Vixen ** - Adopted! Young adult female, sleek black beauty with a plume tail; Vixen is not happy around other cats and would much prefer a home and people all to herself
Arista** - young female; sweet, petite, girl with pointed gene colors; congenital eyelid deformity but vet says her eyesight is fine; prone to upper respiratory infections because of possible chronic feline virus but can be easily treated and managed by dedicated caregiver
Apricat - Female Kitten; Silver tabby little girl; Pre-adoption only until fully vetted, likely August
Tillie** - Very dark tortoiseshell younger adult girl who is extremely shy and wary. She prefers being away from the action but does warm up to gentle people interaction. Does not like to be picked up and prefers a home with no active little kids, bully cats, or noisy dogs.
Bamboo - Female Kitten; Striking baby, white with black and tan spots; Pre-adoption only until fully vetted
Nyx - Female kitten; sleek & inquisitive black furbaby
Snowball - Male Kitten; Sweet little white furred boy; Pre-adoption only until fully vetted, c. late August
Mikado - Male Kitten; Tuxedo little boy who is wonderfully friendly, sweet and playful; Great family cat
Zima - Female kitten; buff pointed little fluffie; Pre-adoption only until fully vetted, c. late August
Cadbury - Male Kitten; Chocolate pointed blue eyed little boy; Pre-adoption only until fully vetted, c. mid Sept
Riley** - A beautiful calico adult lady whose favorite place is perched on a high window sill, looking out at the woods' activity or snoozing in the sun. Riley is very much to herself, and usually avoids interactions with cats and people. She is a longtime resident of the shelter and seems to be less skittish around men.
Genie** - With her unusual coat pattern, this adult girl would blend in with a herd of Holsteins! Genie prefers being the only cat in a home with NO dogs or young children. A patient person can bring out her hidden sweet side.
Safari - Female kitten; Tri-colored Torbie with Jack Sparrow lined eyes; Ready for her special family to choose her for their own
Wheaties** - Adopted! This long time adult resident is our mascot black panther. He's big, sleek, and exotic! Due to poor socialization when younger he is reclusive & aloof. He needs a caring person who can patiently bring out his best.
Bangle - Female Kitten; Sweet baby cuteness in a silver tabby coat; Pre-adoption only until fully vetted, likely August
Winky - Young adult calico and white girl who is shy and reserved but who can warm up quickly to a trusted person. She can be active and engaging and loves to play with the laser light on the big wheel. Gets along with other sensible cats. Winky will make a wonderful companion in a quieter family home.
Allure - Adult female; former momma cat with a lovely dispostion; black smoke (lighter undercoat) short haired; very affectionate and calm; often a conversationalist if she knows you're listening; wonderful companion cat!
Haylee - Young female who can be affectionate and personable. Likes to play, and the laser light is a favorite toy. This sleek girl is a real talker, too!
Winnie - A striking ticked tabby petite young adult, this girl would make a wonderful addition to most any household. Not too energetic, not too shy, she's waiting for the purrfect people to make her theirs.
Nestle - Female kitten; Precious little Tuxedo with tiny white mitts! Ready now for her own forever person to come find her
Matrix - Young adult female; Lovely green-eyed girl waiting for her better life with a loving family
Leland** - Adult male; Very sweet older boy who came into rescue from a sad situation; A special needs kitty dealing with oral & cardio disease. Needs a furever hospice home.
Sanka - Adopted! Adult male; This sweet, quiet boy was almost hairless when dumped at shelter in a box; TLC for skin infections now getting his fur to regrow
Sassy - If ever a cat lived up to a name, it's this young girl! She's got cat-titude and a mind of her own. Can be particular about her friends and likes to play boss.
Cadence - A young tortoiseshell girl who is sweet but somewhat shy. Unlike most of the cats, she will run on the big wheel chasing a laser light! Cadence is also on KCCR's youtube channel so you can check her out.
Buzz - Male Kitten; White with black patches baby boy; Sweet guy, great family companion
Lynda** - This young adult girl was born at the shelter and is a longtime resident. She sticks out her tongue when content. Lynda can have cat-titude so she needs a confident person in her life. She receives periodic therapy for a sinusitis condition and has had all her teeth removed because of stomatitis.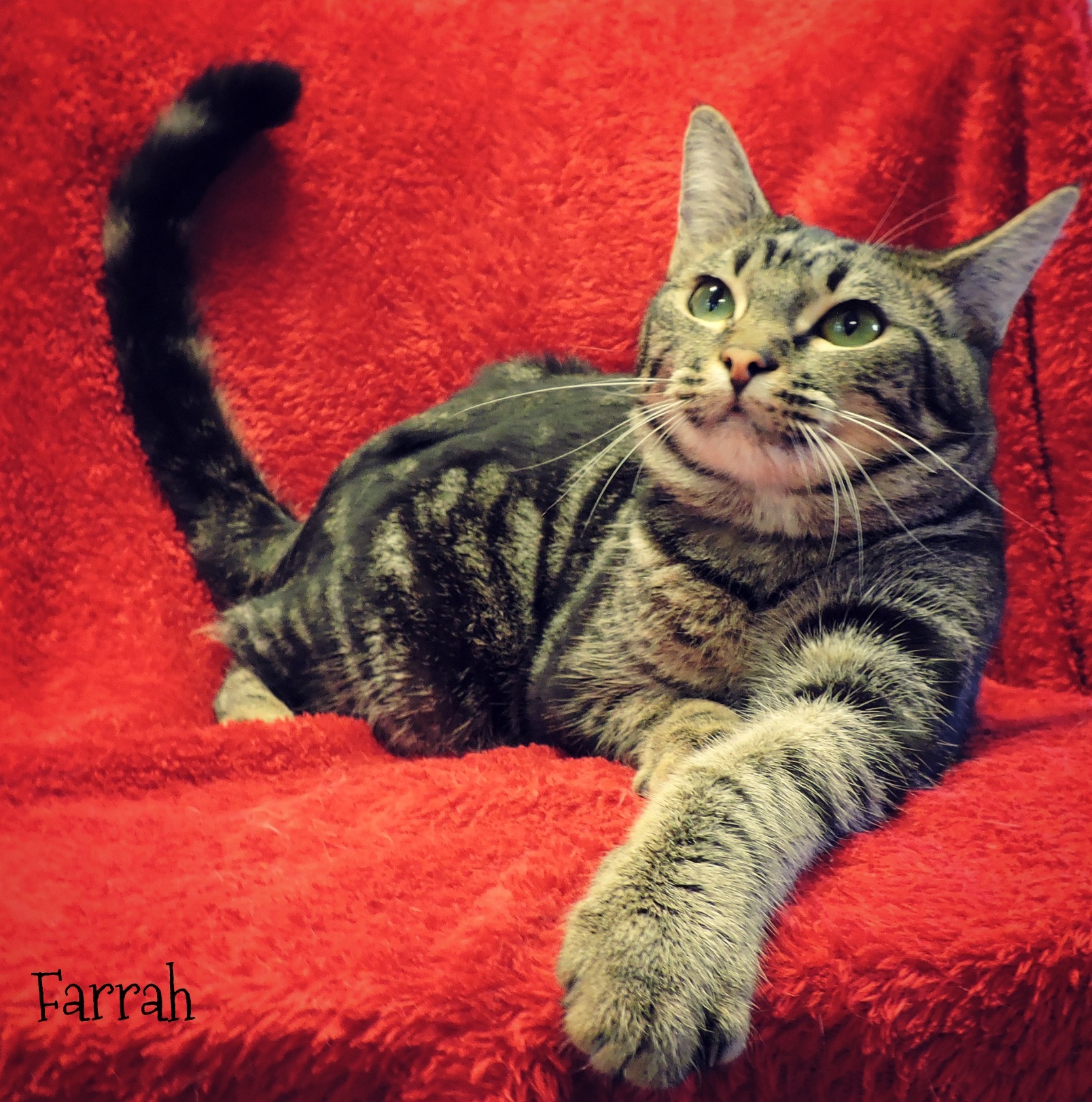 Farrah - Stunning classic tabby youngster, who's somewhat shy but she can be quite playful and gets along with the other cats. Leland's girlfriend.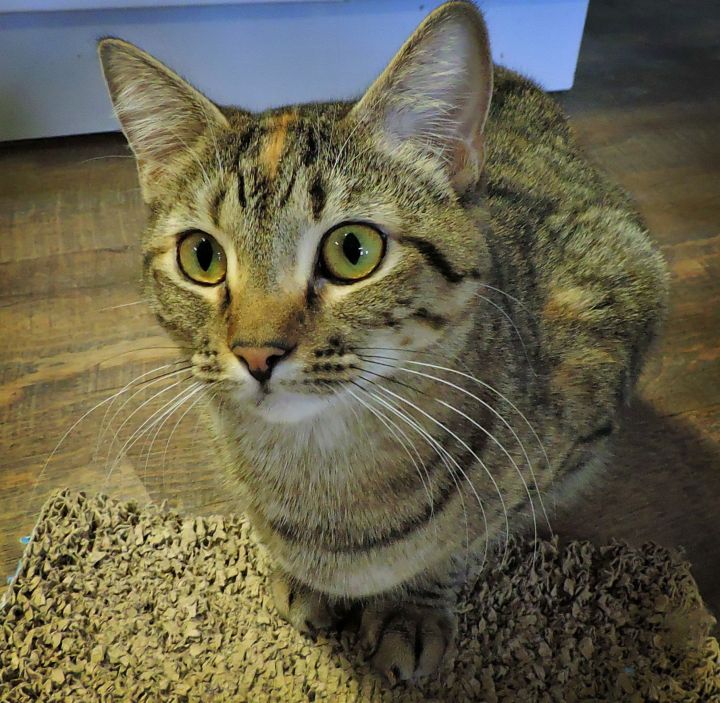 Fern - One year old who loves other kittens and playing with her favorite toys, especially the floor tunnel and laser lights. She even runs on the big wheel! Fern gets along with other cat playmates but can be very shy around people. A patient human friend can bring out her best.
Ventura - Shy but sweet, playful one year old girl. Loves to chase the laser light! Enjoys the company of other easy going cats. Ventura has a unique curled ear tip and she's looking for her special family.
Valentino - Young adult boy; reserved and newly confident around people and indoor life; sweet natured, social, loves attention from gentle people; a wonderful companion cat!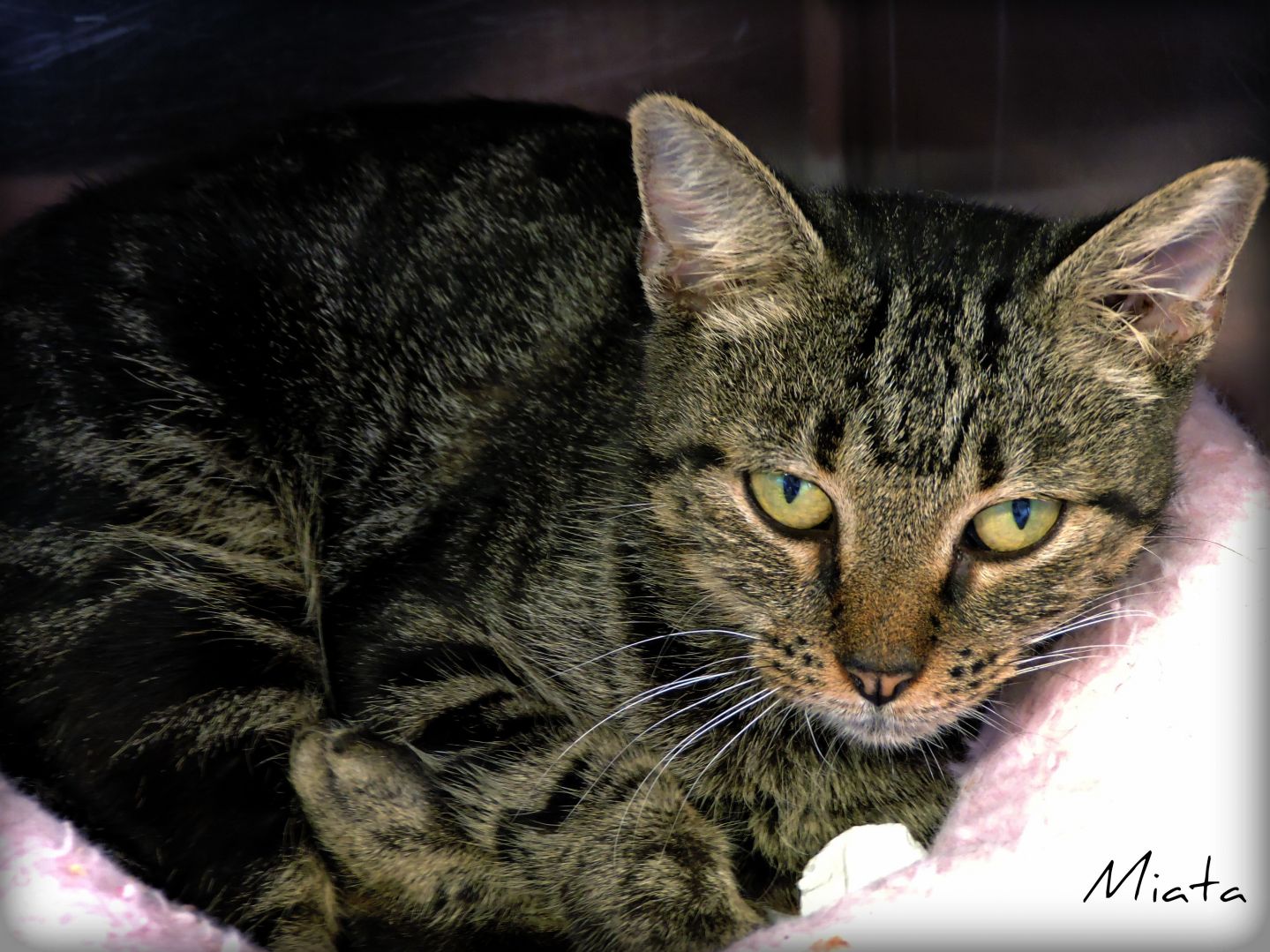 Miata - Young adult female; former mama looking for a stable, caring homelife
Curio - Young adult female; Gray and white mackerel tabby; Very sweet, playful and energetic; Good family companion
Halo - Young adult female; Big friendly girl with unusual orange tabby coat. Not too friendly with other shelter cats. Does not like them in her space so would make a wonderful only cat companion.
Catniss - Adult Girl; 5 year old brown & gray on white tabby with lovely green eyes; Lost her longtime homelife due to her person's health issues; Wonderful young lady just wants her own home and loving person again
Danish - Adult female; sweet personality; was among the other cats who came to rescue from a bad living situation; minor ailments treated
Seymour - Adopted! Male Kitten; Striking buff & white baby boy;
Mothra - Female kitten; energetic and confident mackerel tabby-torbie
Liza - Female young adult; sweet natured, petite black beauty former momma cat
Dimitri - Adopted! Male Kitten; Sweet, friendly, fluffy gray & white boy ready for his forever family
Clemson - Male Kitten; ginger & white tabby boy; Waiting for his own family
Fandango - Male kitten; brown tabby baby; Such a sweetie, wonderful family kitty
Roulette - Adult Female; Long hair silky black lady; Beautiful cat but absolutely Needs to be the only cat in a no children home
LaVerne - Female Kitten; Dark tabby baby, sweet and playful; Pre-adoption only until fully vetted
Jemma - Young female; Beautiful white bibbed girl; nice dispostion and people friendly; looking for her own special family
Gator - Male Kitten; white with black patched baby boy; wonderfully good natured family kitty
Pickles - Adult Female; Gray & white young lady, former momma; somewhat shy but sweet natured; Pre-adoption only until fully vetted
Shirley - Female Kitten; Friendly and interactive dark tabby baby; Pre-adoption only until fully vetted
Roswell - Male Kitten; soulful eyed black furred baby; Pre-adoption only until fully vetted, likely August
Newby - Male Kitten; Gray eyed bi-color bluegray & white mitted tabby baby; Pre-adoption only until fully vetted, c. late August
Mickey - Male Kitten; Buff tabby green eyed boy; Pre-adoption only until fully vetted, c. late August
Tobo - Male kitten; Black shorthair; Pre-adoption only until fully vetted
A few of our longtime residents...